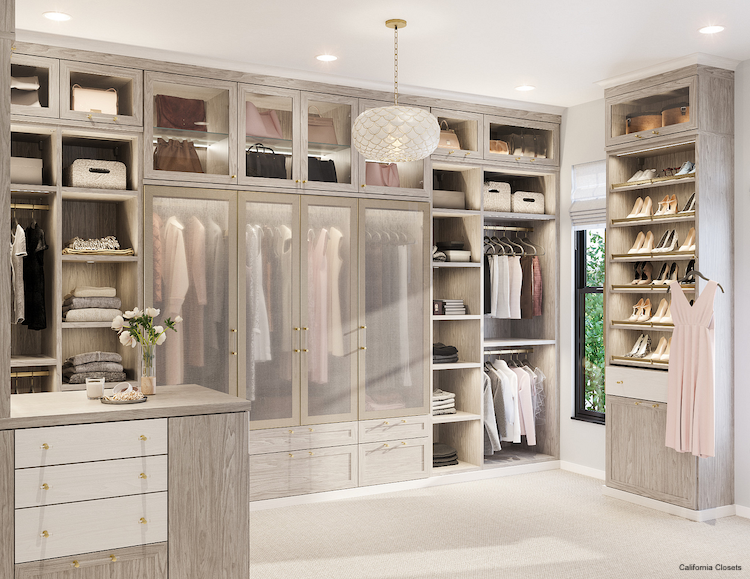 There are no limitations to how you can enhance your custom unit through California Closets. Our array of specialty accessories takes your organization to the next level, creating a designated spot for every item. Everything from drawer dividers, pull-out racks, decorative hooks and valet rods, to closet poles and hampers; these key components will all coincide together to elevate your system from basic to remarkable. Invest in these key closet organization tools.
It's all about the lighting. The simple addition of lighting to a space not only makes your items easily visible with more accessibility, it also illuminates your system creating an exceptional display with a boutique-like look to it. LED lighting automatically heightens the ambiance of a room. Including sensor lights to turn on when you open your drawer, lighting along your closet rods, lighted shelves for your shoe wall storage or media center to highlight your treasured belongings, and even floor or puck lighting will inevitably bring your storage space to life.
Experience our Virtuoso Collection. This simple, modern look is perfect for closets, media centers, entryways and more. Without the classic use of vertical partitions, the virtuoso system creates geometric patterns while also introducing long, horizontal lines that highlight simplicity; capturing that contemporary look. This collection is a more minimalistic approach vs our more classic styles. Flaunting open storage, the natural floating aesthetic of this design is a great way to showcase your wardrobe.
Keep items separate, organized, and easy to access with Draw Dividers. Shelf and drawer dividers are a simple addition to your closet that makes all the difference. Dividers allow for superior organization within a drawer, this assists with decluttering as well as quick visibility of your clothing inventory. Go a step further, and purchase clear dividers to blend into your space while providing the separation needed between your stacks of clothes. Pictured above is our Everstyle Drawer collection, featuring the Everstyle Sock & Shirt drawers that are easily adjustable and fully customizable to fit your specific needs.
Showcase your shoe collection with a Shoe Wall. Creating a custom shoe wall not only displays your shoe collection beautifully, but it keeps every type of shoe from high heels to sneakers, sandals, and boots neat and organized while keeping your floor free of clutter. Deciding to add in a shoe wall gives your overall closet more of a boutique feel, which makes choosing your shoes to match your outfit go by effortlessly. We offer a variety of shoe storage options, from shoe fences to cubbies. Incorporating pull-out slanted shelving within your unit is also a great way to have easy accessibility.
Elevate your morning routine by incorporating a jewelry draw organizer. Dividers can organize every piece of your jewelry making it an easy process when choosing the day's accessories. California Closets' new Everstyle drawer collection features a jewelry organizer that easily adjusts to the perfect width, storing small items such as earrings, and bracelets one moment, then quickly can be adjusted to store larger items such as sunglasses, belts, or long necklaces.
Optimize space with hooks. Multifunctional hooks can work for an array of items ranging from coats and hats, to purses and scarves. Utilizing your free wall space with hooks opens up more storage space for your clothing. Choose from a broad range of options including cleat mounts, slat wall, and double hooks. Our variety of different hook styles each offer a different purpose. Made from cast steel, our hooks are designed to prevent wear and tear on your items, while offering durability and strength.
Get yourself a pull-out accessory. We offer a complete system of tie, belt and scarf racks, valet rods, pull-out mirrors and more. These cleverly designed accessories are easily hidden within your closet system for a seamless design and functionality; holding many items while taking up minimal space. Specialty racks maximize your space while targeting your specific storage needs. The pull-out racks offer the visual organization you need to easily find your daily items.
Hide your Laundry. Hampers that are integrated within your closet offer a seamless, aesthetically appealing design. These accessible catchalls for dirty clothing are available in pull-out or tilt-out styles as well as offered in a variety of sizes. Laundry bags that are stored in this space are easily removable for a smooth transition when it's ready to be washed. These bags are machine washable and easily stored.
Start your dream closet journey today and schedule your complimentary virtual or in-home design consultation at www.californiaclosets.com or call 914.592.1001.
Like what you see? Get it first with a subscription to aspire design and home magazine.