A team built of innovative and talented women is what makes Intimate Living Interiors a staple in the Southern California community and a pillar in the design world. Founded by Kari Arendsen in 2005, ILI has been able to offer its unique style to many homes and spaces. They know when to push boundaries and when to emphasize their client's style, striking that ever so fragile balance with ease and grace. Not only has ILI been featured in major publications such as California Home & Design and Luxe Magazine, but they have been awarded Top 100 Interior Designers Globally by the Andrew Martin Interior Design Review. Introducing this week's Designer Friday, Kari Arendsen.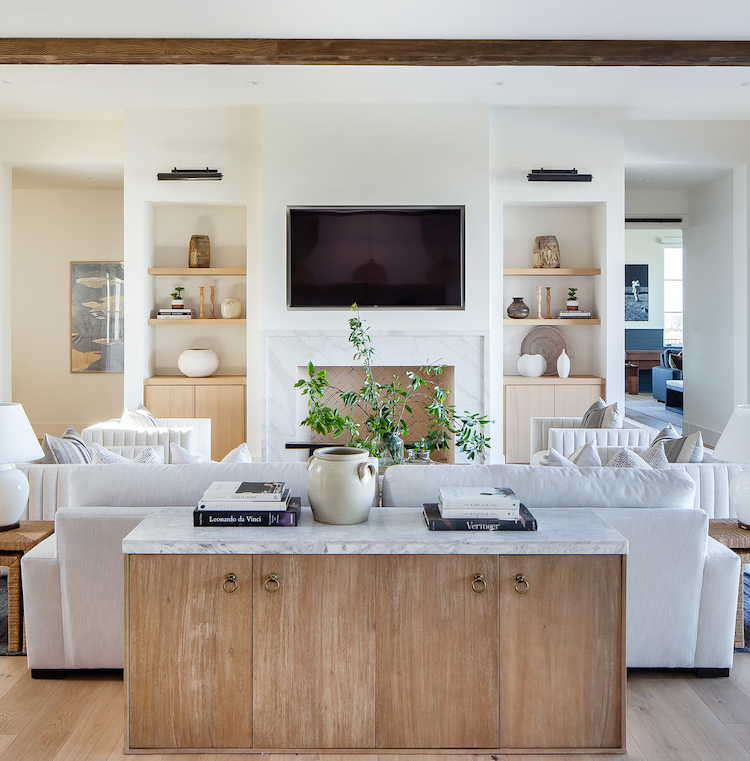 A breath of fresh air and a sense of calmness floods this home in Santa Barbara, California. It sits on 2 acres of land and has a welcoming vibe that allows you to leave your worries at the door.
Andrew Joseph: What are three words to describe where you live
Kari Arendsen: Warm, earthy, comfortable.
Andrew: What are your ideal weekend plans?
Kari: Self-care by way of cooking healthy meals, taking walks near a body of water and getting enough sleep. It may sound boring, but feeling your best starts from within and nothing sounds more ideal than that!

Keeping the traditional elements of Santa Barbara architecture, Kari Arendsen was able to elevate this modern home into a lush space for this client. Architect: John Jensen; Builder: Goral Construction; Photographer: Ryan Garvin.
Andrew: What is your design pet peeve?
Kari: My biggest design pet peeve is when things are too matchy-matchy. If it all looks like it came together from a catalog, I want to run for the hills! There is nothing more interesting than a layered, well-traveled interior that tells a story about the person that inhabits the space.

Throughout this bungalow, you can see how Kari honored the classic Spanish architecture and restored its true roots as she renovated. Original Builder: Holcombe Homes; Restoration Builder: Emilio & Sons; Photographer: Ryan Garvin.
Andrew: What's something you always travel with?
Kari: I think it's important to invoke the senses and a feeling of home wherever you go. I travel with candles and incense and I try to stop for fresh flowers! Traveling always makes you so aware of how your environment affects your well-being.

For this space, Kari wanted to design an open floor plan with defined spaces for each family member. Architect: Trace Wilson; Builder: California Home Builders; Photography: Jim Brady.
Andrew: What are some of the podcasts you listen to and why?
Kari: There are so many amazing podcasts out there, but I love Rich Roll for his thought-provoking and educational, wellness-based topics. Sometimes I enjoy Joe Rogan for his funny take on the world and Oprah's SuperSoul Conversations for her deep conversations with some of the most interesting people that are changing the world for the better.
---
About The Designer | Founded in 2005 by Principal Designer Kari Arendsen, ILI remains a pillar in the design community. ILI is known for an unparalleled ability to interpret the full potential of a space. Applying acute design sensibilities with intelligent application of key design principles, and knowing when to conserve budget, push boundaries, maximize function and emphasize distinctive style are the elements that make up their sought-after designs.
---
Andrew Joseph is a regular contributing editor for ASPIRE DESIGN AND HOME magazine. See more of his work here.
Like what you see? Get it first with a subscription to ASPIRE DESIGN AND HOME Magazine.