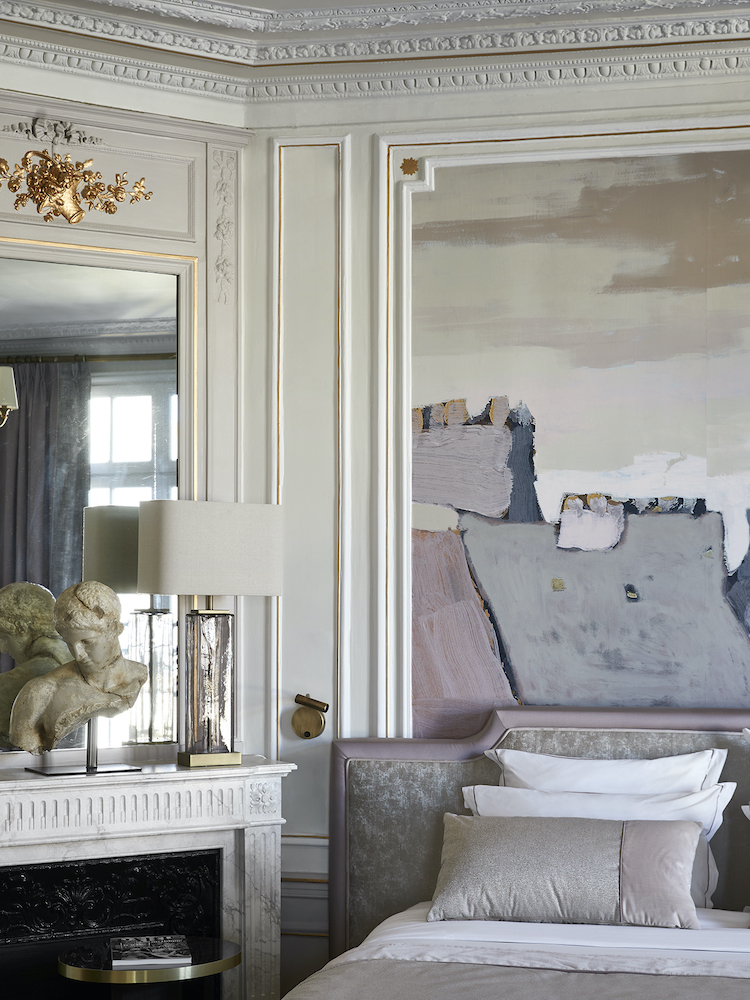 Nestled in a sublime Haussmann building in the 8th arrondissement, like a luxurious jewelry box, the Elysia Hotel cultivates an intimate and romantic spirit inspired by the elegance of the French art de Vivre. The first 5-star hotel of the Inwood Group, and located just a few blocks from the most beautiful avenue in the world, it has been given its new lease on life by Maison Numéro 20 under the leadership of its designer, Oscar Lucien Ono.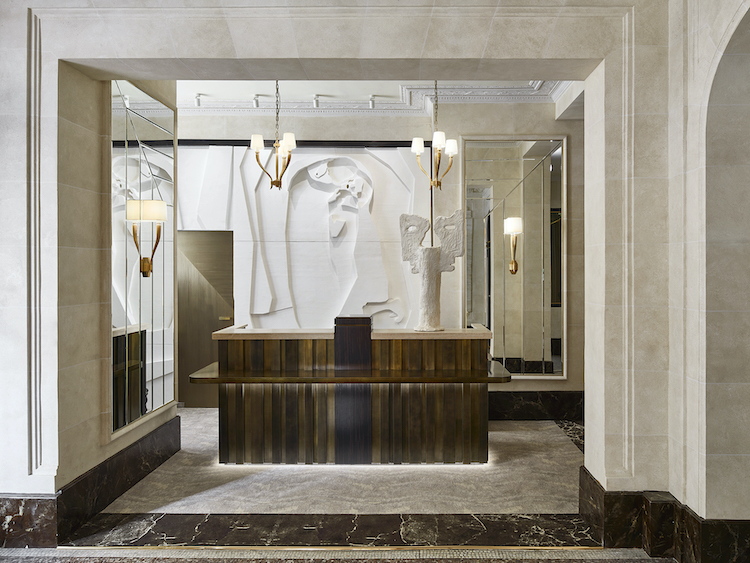 At the entrance, visitors are greeted by a sculpture made of plaster by the artist François Mascarello: a representation of a kiss. This work, which depicts the ultimate romantic gesture, is a reference to the famous Kiss by Klimt, but also to the kiss that Apollo gives to Daphne in Greek mythology. This embrace extends into the living rooms and the bedrooms, which feature the artifices of the Parisian romantic cliché (rooftops, bridges, gardens) through oversized paintings that invite reverie.
As a nod to the work of Alberto Giacometti, the fireplace lounge has been designed as a space conducive to meetings and exchanges, with a warm and intimate atmosphere. The use of bronze was largely inspired by the sculpted figures that made the Swiss artist a reference in 20th-century art. Large armchairs encourage conversation around coffee tables whose hammered metal legs contrast with the softness of a custom-made moiré carpet. A marble fireplace warms the space, on which rest replicas of Giacometti's Standing Women sculptures. Finally, a replica of Auguste Rodin's Kiss extends the loving embrace of the plasterwork in the reception area.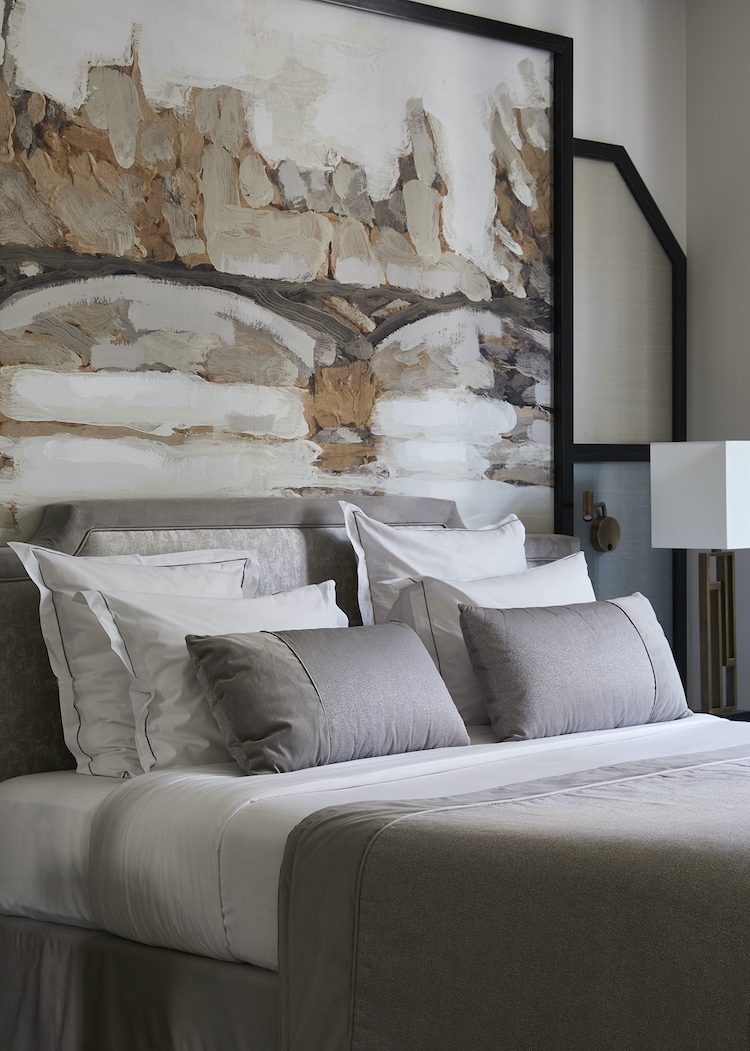 A Romantic Tribute To Paris
Like a contemplative historical journey, the rooms and suites feature the most emblematic places of Parisian romanticism: gardens, rooftops and bridges in the form of paintings. The paintings by François Mascarello are like an invitation to lie down on the grass for a siesta in an idyllic Paris.
Each theme has its own chromatic universe: a cameo of green to evoke the gardens of Luxembourg or the Tuileries, shades of pink recall the reflections of the sun on the zinc of the rooftops and the shades of gray are a nod to the ironwork of the Parisian bridges.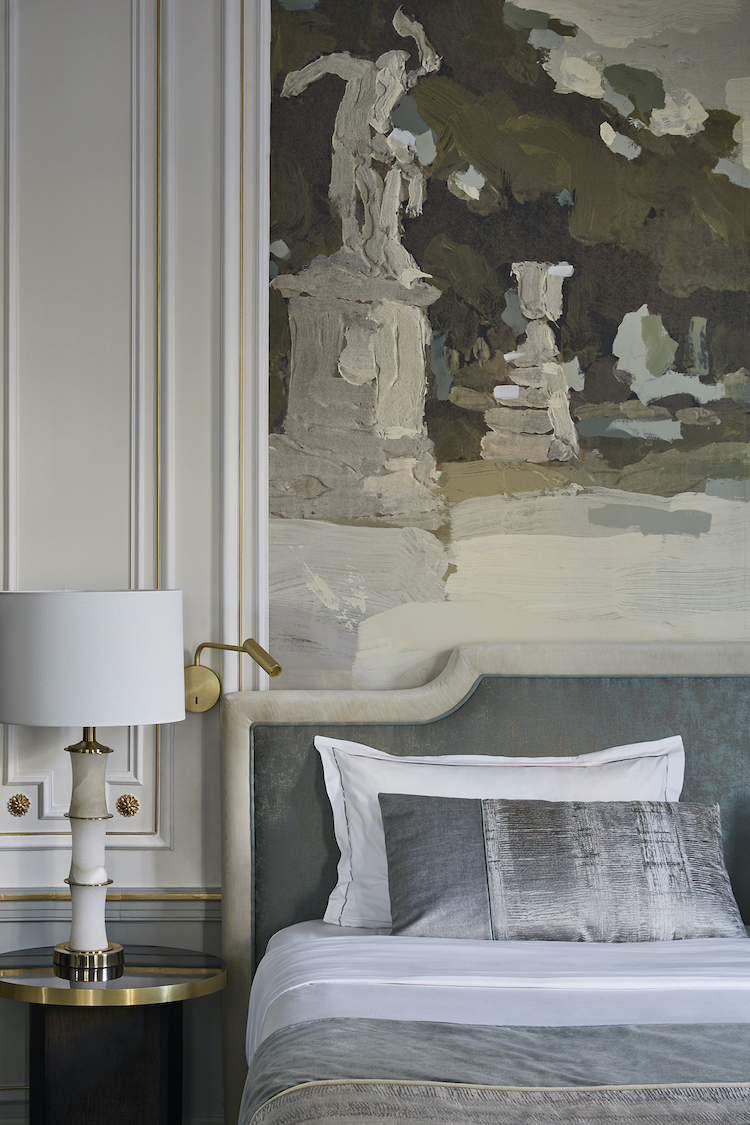 For more like the Elysia Hotel be sure to check out this grand apartment by CM Studio, and look for more cultivated bedroom designs in the upcoming winter issue of aspire design and home magazine. Get it first with a subscription, here.