A jack of all trades is the best way to describe this week's Maker Monday, Cecil Adams. Mr. Adams started as the Visual Merchandising Director for Expressions Custom Furniture and continued to make his way to now being the VP and Creative Director of Currey & Company, since 2005. Not only has he worked alongside the infamous Smithsonian Museum and incredible interior designer Bunny Williams, but he has also developed products for home interiors including textiles, lighting, upholstery, and case goods. Please help me continue the journey of Maker Mondays with Cecil Adams.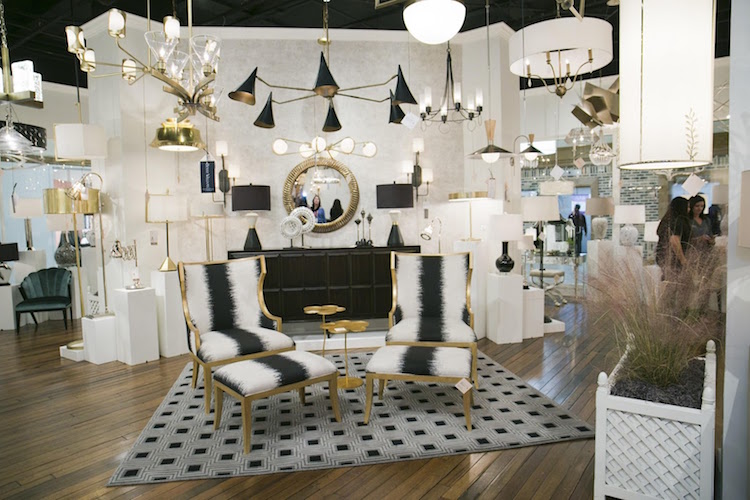 "I've always felt somewhere between a maker and a designer as my true artistic expression comes through the creative process of visual merchandising – a place where art and commerce meet." states Cecil Adams.
Andrew Joesph: You're the newest Crayola color. What color are you and why?
Cecil Adams: I would be Crayola's newest invention – an intuitive crayon that would color based on your mood once you touched it. That way I could be all the colors!
Andrew: What is the last book you read?
Cecil: The Overstory by Richard Powers. Remarkable and wonderfully written and I will never see trees the same way again. We should all read this one.
Andrew: If you had a superpower, what would it be?
Cecil: My superpower would be to make everyone appreciate and treat each other as fellow humans. Not sure what my name would be, maybe something like Super Nature?
Andrew: If you could guest star on any TV show – on or off air – what show would you guest star in?
Cecil: I would guest star as Julia Sugarbaker's gay designer cousin from Dallas. Since it is set in the 80's I would still have hair so it would really be done up and I would be impeccably dressed in head to toe Perry Ellis.
Andrew: If you could live in any home in a movie or television series, what would it be?
Cecil: Mimi Rogers apartment in the movie Someone To Watch Over Me and Julia Roberts beach house in Sleeping With the Enemy or almost any movie set from the 1930's.
Andrew: What's your favorite cocktail?
Cecil: Vodka Martini up with a twist and very cold.
Andrew: What are three words to describe where you live?
Cecil: Concrete Brutalist Tower
Andrew: What are you most proud of?
Cecil: I am most proud of the mentoring relationships I have had over the years with various coworkers. Helping them achieve their goals continues to give me great joy. So
proud of them all!
Andrew: Favorite piece of clothing you own?
Cecil: Linen jacket from John Varvatos collection Spring 2018. Never fail to get compliments and it fit like a dream when it came off the hanger. One day I'll take it to a tailor who can make some copies for me if I can ever part with it long enough.
Andrew: A book that everyone should read?
Cecil: I turn to a favorite book any time I need a creative kick in the ass – and we all do every once in a while – Twyla Tharp's The Creative Habit. She's 78 and still at it!
Andrew: How do you define beauty?
Cecil: True beauty is anything that moves you, creates an emotional reaction within you that you may not really ever be able to explain. It can be different for everyone and those of us who create it ought to keep that in mind as part of the process.
---
About The Maker | Cecil Adams has worked in the home furnishings industry for well over 20 years, first as a Visual Merchandising Director, and later as VP and Creative Director for Expressions Custom Furniture, then Creative Director for rug manufacturer Trade Am. Upon leaving Trade Am, Cecil ran his own consulting business before coming to work at Currey & Company, where he is now VP and Creative Director. He has been with Currey since 2005.
In that time he has worked on both sides of the design collaboration table with designers including Candice Olson and Bunny Williams, institutions such as the Winterthur Museum and the Smithsonian, and textile fashion house Echo and Aviva Stanoff Designs.
Cecil likes to say he came into home furnishings through the door of visual merchandising and fashion, both areas that he is passionate about. He has developed products in all areas of the home furnishings world, including textiles, lighting, upholstery, and case goods.
---
Andrew Joseph is a regular contributing editor for ASPIRE DESIGN AND HOME magazine. See more of his work here.
Like what you see? Get it first with a subscription to ASPIRE DESIGN AND HOME Magazine.