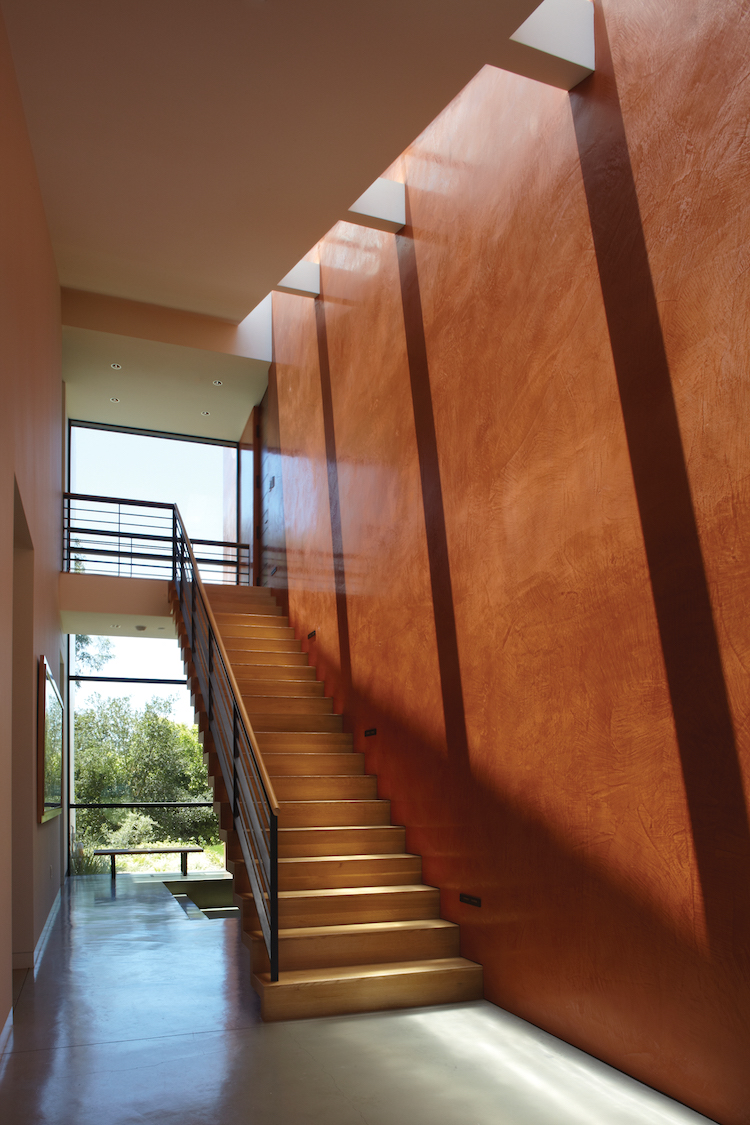 The approach to the original house on this elevated flag lot in Beverly Hills, recalls architect Michael Kovac, cultivated a sense of suspense appropriate to this movie-obsessed town. "It wound up a hill for several hundred feet," he describes, "but stopped at the facade of a pretty standard modern house. There was no payoff or sense of a view. So your expectations were raised, then dashed." The anticlimax, to say the least, was hardly cinematic.
Still, the owners wanted to try preserving the house rather than demolishing and building from scratch. So Kovac and his team spent considerable effort creating plans to make a silk purse out of what was essentially a sow's ear.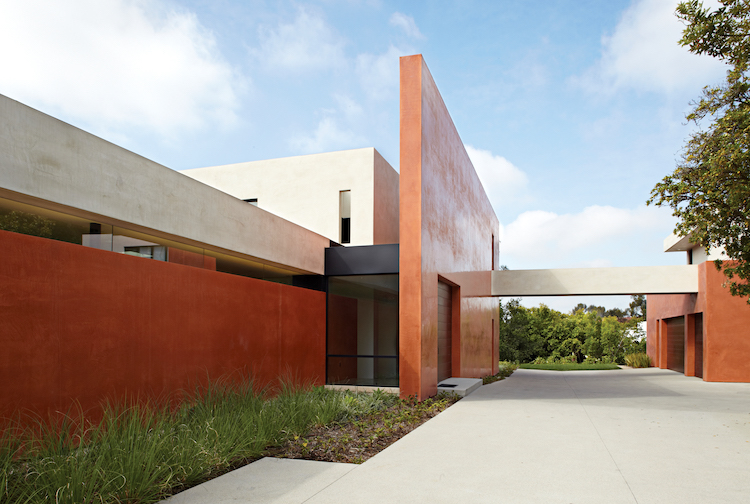 The owners – a surgeon and a film producer in their forties with two preteen daughters – eventually realized, explains Kovac, that "while we could make a much nicer home, it was always going to look like a house without a lot of property." Unless, of course, they started fresh with a new structure and a reconceived orientation.
Simultaneously, he remembers, "the owners had traveled to Mexico and were taken by the work of Luis Barragán and Ricardo Legorreta." Kovac's response was to rotate the new house perpendicularly to its original axis. Now the meandering approach culminates in a car court overlooking west-facing gardens by landscape architect Pamela Burton, with city views beyond.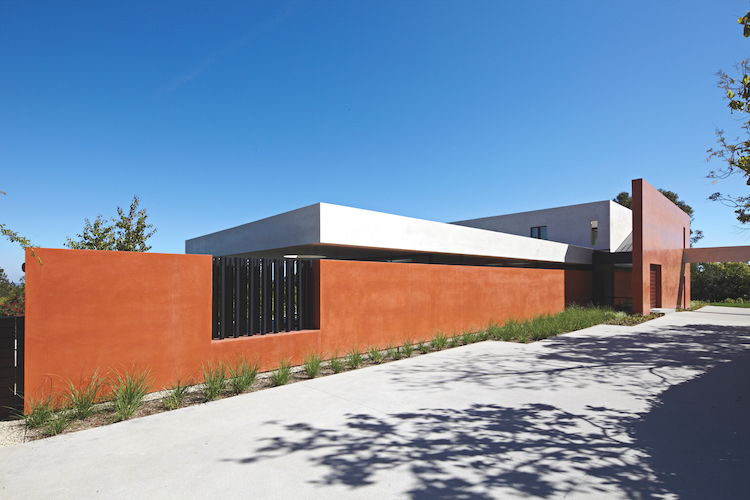 On the left, just before arrival, we glimpse a teasing, louvered view of city lights to the south through a break in the long wall. This wall, one of three massive, parallel planes inspired by Barragán's legendary design for an equestrian estate in San Cristóbal, comprises an enclosure that secludes the backyard and pool and terminates at a second wall forming the facade of the living spaces. To the right across the driveway is the third wall, actually the exterior of a garage and guest cottage, connected to the main house by a bridge.
The composition frames the garden and, because of the walls' long directional projection toward it, leads our eye naturally to that vista. The bridge recalls a fountain at the San Cristóbal estate. But, adds Kovac, "On a personal level, I've always enjoyed bridges. They transport you sort of magically from one place to another."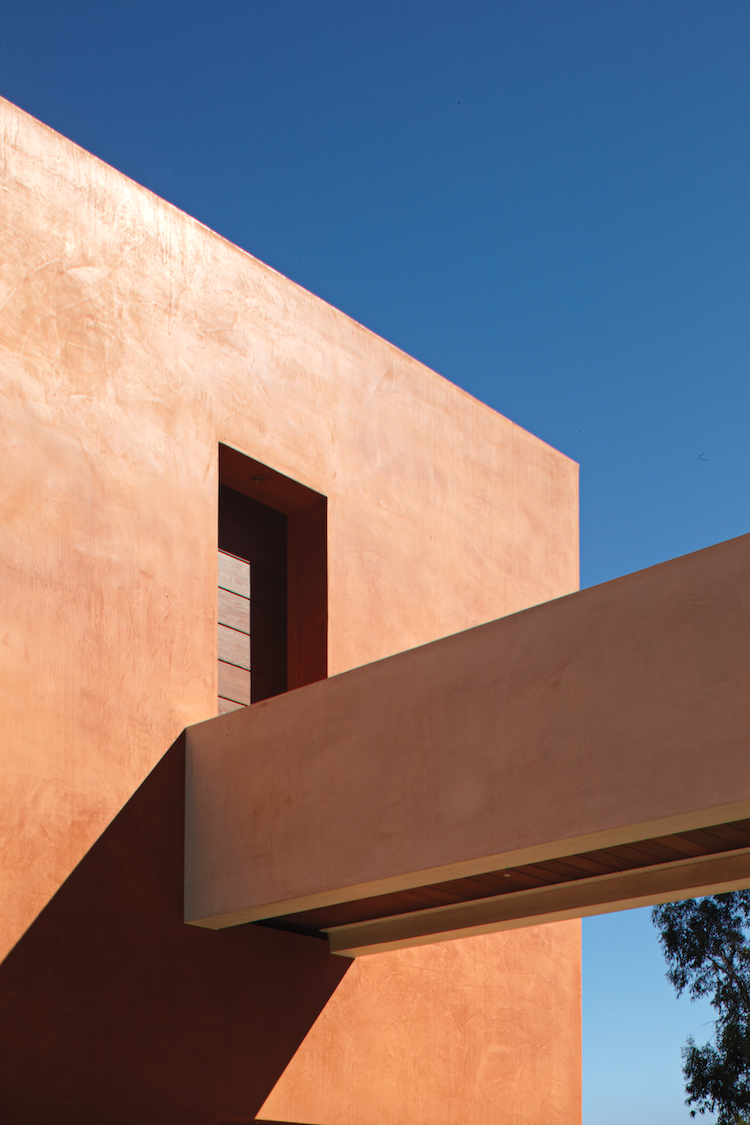 In a nod to Legorreta, the walls feature a rich terracotta color integral to the plaster, crossing through glass sliders into the home, "dematerializing the enclosure of the house and," observes Kovac, "making explicit the connection between inside and outside."
The cinematic plot is no longer lost. It develops and thickens along the approach, reaches its dramatic turning point at the house and goes through a gradual denouement as the land beyond it falls away toward the view…The End.
Photography by Lars Frazer.
Like what you see? Get it first with a subscription to aspire design and home magazine.