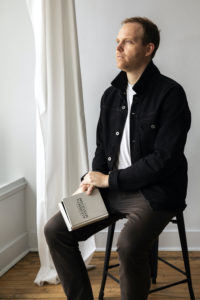 If modern art — particularly abstraction — has taught us anything, it's that communicating the essence of a place is about more than just meticulously rendering every leaf, dewdrop and rock formation. Forty-one-year-old artist Neal Calvin Peterson arrived at this truth through a curious convergence of education, travel and spiritual experience.
Peterson's undergraduate studies focused on digital and graphic design, as well as on classes in photography. Pursuing his MFA at University of Minnesota, Duluth (class of 2007), he produced work that expressed the correlation between music and visual art.
For several years, he freelanced as a graphic designer for companies as diverse as the Minnesota Orchestra and a corporate law firm. But he decided to trade it in for a backpack to hike India, Nepal and, eventually, around the globe. "My spiritual core led me to Tibetan Buddhism and mandalas," he recalls. "When you're a 6-foot-4 North Dakotan in India, you are an outsider." This experience changed the way he looked at the world during his travels.
He returned to school, earning an MA in 2013 from East Tennessee State University, where he became fascinated with combining fine art and technology to create new art forms. In 2015, this dovetailed with the new way of seeing he'd acquired in India and, out of it, his Cities (he also calls them Urban Mandalas) works emerged.
Like Buddhist and Hindu mandalas, Peterson saw cities themselves as ephemeral, and their impression on our souls as chimerical. Rather than creating snapshots of urban landscapes, he began focusing on the elements that, taken together, captured the more distinctive, yet simultaneously more elusively abstract, sense of place. "It's in the subtleties of graffiti, the smells of the streets, the vegetation; it's in the dirty alleyways," he believes.
These works are kaleidoscopic, circular compositions of individual details he photographed in various cities. "Miami," for instance, creates repetitive patterns out of tropical vegetation, Art Deco architecture and building details. "Amsterdam" does the same with metal rooflines, outdoor sculptures, brick walkways and so on.
The process for these works is labor-intensive. Peterson shoots 200 to 300 photos for each, but ends up using 50 to 100 in the final design, and then only after producing an average of 5 to 10 preliminary designs on his computer. "Cities" led to a collaboration with the Dutch design cooperative Moooi, which adapted several of his urban mandalas for circular rugs.
"Zion" from Peterson's National Parks series.
"Cities are technological in many ways, the manifestation of human thought and very rectilinear," observes Peterson. "Nature doesn't play by those rules. It doesn't give a damn about conforming to the human mind." This realization led to another body of work, National Parks, which he started producing last year.
"Photography is different today," the artist explains. "You're not Ansel Adams anymore, lugging a huge camera around. And to have the same photo that 10,000 other people have wasn't enough to express the emotion I feel when I see that view."
For this ongoing series (he just added "Glacier National Park", pictured above), Peterson feeds about 100 photos of a national park into his computer and uses a program to collage them onto a base image of a particular panorama. Then he commands his artificial intelligence (AI) software to resolve the image. The amalgamation of photos confuses the AI software, which, in its effort to make sense of the multiple fractals, distorts the image further.
Peterson repeats this process 20 or 30 times until he is satisfied with a new abstracted landscape that more accurately approximates his state of mind as he photographed that particular topography. The results are works that have a sense of movement, transition and degradation to them. You can no longer discern whether something is a cloud or a tree, yet you can feel the presence of both.
Peterson sees this as just another development made possible by digital technology. "What happens when it gets a little smarter and starts painting on its own?" he asks.
What indeed? Surely he will show us.
Like what you see? Get it first with a subscription to aspire design and home magazine.