Why is Poggenpohl debuting a new showroom in SoHo? Though its designs always feel fresh, the company has a long, proud history. Over more than a century, it has evolved from a furniture cabinet business into a leading maker of luxurious kitchen architecture. And now, they are celebrating turning 130 by debuting new products, showing off a refreshed brand image and opening a U.S. flagship kitchen design studio that's a feast for the eyes.

Creating Poggenpohl's Innovative New Showroom
Poggenpohl's new showroom is appropriately located in an NYC neighborhood known for artistry, fantastic shopping and distinctive architecture: SoHo. The showroom spans two levels and over 5,000 square feet in a building that dates back over 100 years. Its 15-foot ceilings and Corinthian-style columns make it ideal for showcasing the brand's latest innovations.
One design goal was to help this space look more like a home. This helps clients see themselves living with Poggenpohl. Thus, the studio boasts such amenities as seating areas, lounge spaces and dining tables. This is a marked departure from the company's previous approach, which focused on fitting as many kitchen vignettes into each space as possible. However, in the new showroom, visitors will find just seven beautifully-equipped kitchens on display. This layout leaves plenty of room for living and dining spaces, a bar and media space, a wardrobe and more.

Serving Both Local and Global Customers
Anyone who has visited an average NYC apartment knows that space is often in short supply, especially when it comes to kitchens. The challenge: how could Poggenpohl shape displays that would feel accessible to locals while still acknowledging an audience of global visitors? Ultimately, Poggenpohl aimed to nod toward the needs of New Yorkers without giving short shrift to the kitchens on display. Their philosophy: if a kitchen concept is strong, the attentive staff can help clients imagine how it can fit their space. Perpetually-short-on-storage locals will particularly appreciate innovative kitchen drawers and pantry organization tools.
New York is also a city for window shoppers. Thus, Poggenpohl's goals included inspiring clients from the moment they look in their windows. The ultimate design was a collaboration between U.S. and German design teams. Their work reflects the design of recently-completed showrooms in Europe. But they are still seeking ways to tailor the showroom to its location such as showcasing local artists there. Poggenpohl will also continue to seek inspiration from their clients on how the studio can best serve their ever-evolving definition of luxury.

Poggenpohl's New Showroom Gets Cooking
However, that's not the only kind of service available at Poggenpohl SoHo. One of their distinctive +MODO kitchens is more than a display. This working kitchen will welcome chefs for cooking demonstrations and other unique culinary experiences. Visiting the showroom and want to see what's cooking? Look for the +MODO kitchen with a black island, dark oak accents and a contrasting Aluminum Champagne cabinet column.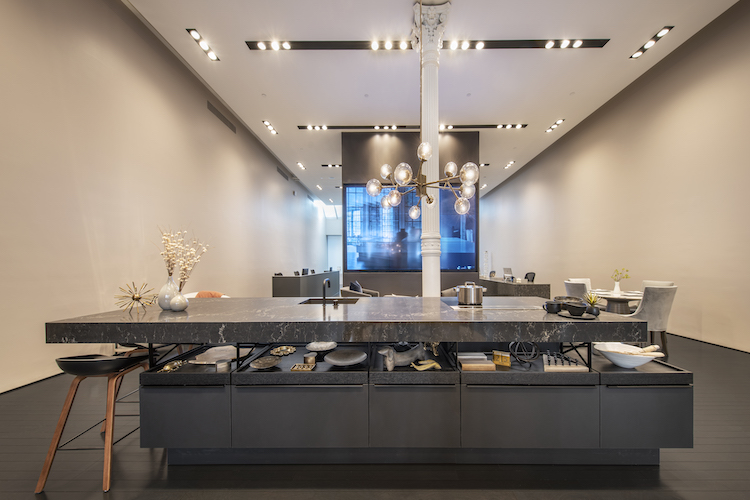 Poggenpohl also has also generously decided to share standout pieces by other fine brands. Look out for appliances by Subzero-Wolf-Cove, Miele, BSH, Liebherr and Dacor. In addition to Poggenpohl countertops, you'll also see examples from Silestone and Caesarstone. And note plumbing fixtures by Dornbracht and Franke alongside Poggenpohl's own fixtures.
So, while it is exciting to celebrate Poggenpohl's anniversary, global brand refresh and new showroom, aspects of the company remain consistent. When founding it in 1892, Friedemir Poggenpohl said his aim was to "make the kitchen better." It's a goal that Poggenpohl still aims to achieve every day.
Visit the new Poggenpohl Kitchen Design Center in New York, NY at 138 Greene Street—just south of Houston.
Want more Poggenpohl? We shined a spotlight on their +STAGE storage.
---
Paul Hagen is a writer and editor for aspire design and home magazine.
Photography for this piece courtesy Poggenpohl.
Like what you see? Get it first with a subscription to aspire design and home magazine.