As it is the place in a home where people receive guests and participate in larger family gatherings, living rooms are ideal for plot development. Living room scenes allow viewers to see where every character fits into the jigsaw puzzle of the plot just by where they are seated and how they interact with others in the room.
For production designers and set decorators, the living room also often solidifies the style of the house decor and by extension, the characters' personalities.
Take a look at what our judges considered the "Best Living Room Design" in our inaugural Best-Dressed Rooms in TV and Film Awards, and vote for your favorites below.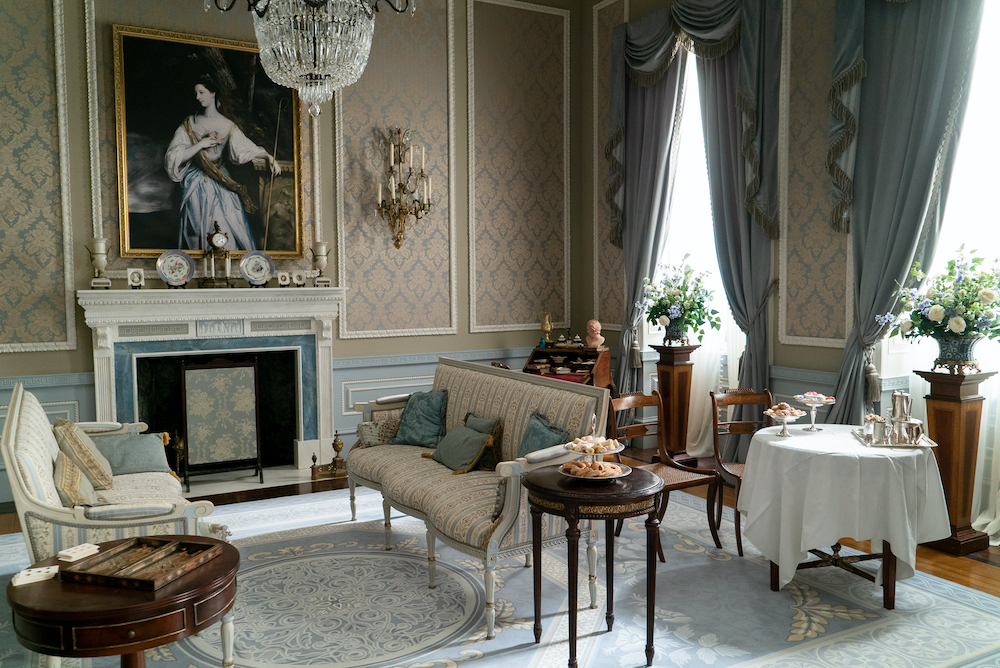 Photo courtesy of Netflix.
Bridgerton
Production designer Will Hughes-Jones and set decorator Gina Cromwell single-handedly helped increase sales of Regency-style furniture by 300%. For the blue-blood Bridgertons, their living room was shades of blue that were both soft and welcoming. For the wannabe Feathertons, they chose the salon to be yellows and greens as a contrast. All had Regency designs circa 1813 with elegant furniture with sumptuous silks, vertically striped wallpaper, intricate wall moldings and paw-shaped feet on furniture and plenty of floral motifs. Basically neoclassical but on steroids.

Photo courtesy of Netflix.
"Those family hangout scene in the sitting room were amazing," says judge and interior decorator Courtney Sloane," The scale of the room, color, way and the nod to the Regency Period, the soft ethereal blues. All wonderful choices."
---

Photo courtesy of Netflix.
Ozark
Some liked Ozark because the light-filled living room with the worn couches and chairs felt safe compared to all those big sliding doors to the outside world which was indeed more menacing. Although very pretty, the sliding glass doors and large windows were a great illustration of the trap they were in to survive.
---

Photo courtesy of Netflix.
Emily in Paris
When your living room windows overlook Paris, it's hard not to be seduced. Many judges clearly love Paris and art deco; the herringbone wooden floor, the curvy velvety chairs and couches, the lined moldings, the double doors.
This series was a love letter to Paris by creator Darren Starr. Production designer Anne Seibel and set decorator Christelle Maisonneuve also refurbished the scenes from the country chateau at Le Chateau do Sonnay, which is an existing French castle. They added a few gardens, more flowers but kept the interior very much intact with a chaise lounge anyone would want to lie in to read a book.

Photo courtesy of Netflix.
But the spaces in the city of Paris had both charm and wonderful splashes of bubblegum pink colors as well to mix in with the neutral shades. Clearly, the French aren't afraid to use pink in living rooms.
---

Photo courtesy of Netflix.
Malcolm & Marie
That sectional couch. Long, lean and embracing, the sheer length of the couch allowed the lead character played by Zendaya to stretch out like a cat-like seductress to contemplate her life and relationship. At other points, the throw over the couch became a cozy memento to add warmth to the scene. Furthermore, the geometric fabrics for the pillows helped the neutral shades in the decor have a bit of pop.

Photo courtesy of Netflix.
"If you are going to do a contemporary room, this is how you do it," says judge and interior designer Gail Davis. "Form marries function with beautiful linen lamp shades, mismatched pillows that add to the sectional that makes you want to dive in and read a book, listen to music or hang out with friends & family laughing. The flatweave rug delineates the space too."
---

Photo courtesy of Netflix.
The Queen's Gambit
Sabine Schaaf did a masterful job of showing a transition from a mother owning a house to a daughter buying it and creating her own touches without losing the essence of the space. Chess prodigy and orphan Beth Harmon wanted the home to root her to family but also was evolving as a professional and establishing her own taste.
"The Wheatley House encapsulates the 1960s maximalist style," says Schaaf. "Beth's adoptive mother has attempted to build a perfect happy family home, but instead, her design choices imply questionable taste and a life in chaos. The house, as designed by Wheatley, is a firework of wallpapers and fabrics, layered together like many American houses from this period. The graphics technically don't fit together but find harmony through the strong color concept."

Photo courtesy of Netflix.
In Beth's version of the house, she still uses a blend of patterns and colors with nods to Wheatley's eccentric styling, but with "a lighter, more modern feel."
"The main rooms of the house transform from deep teal to pink mod," says Schaaf. "Teal is however still used to tie the room together, although now the color is to be found in the smaller features, such as the lampshades. The serious landscape paintings filling Wheatley's house are replaced by abstract and fresher artworks."

Photo courtesy of Phil Bray/Netflix.
The room, adds Schaaf, also featured art nouveau elements; luxury textiles, extravagant drapes, button-backed armchairs, as well as lavish floral wallpaper – which was the most expensive wallpaper used in the entire show.
Having taken over her mother's house herself, judge Cornelia Guest also related to the subtle changes Schaaf employed. "She made it her own without losing its history to her."
Vote on your favorite living room and it will be part of our final tally on April 22nd.