Photo Courtesy of Robert Viglasky/Netflix.
Would you want to share a bed with Hugh Grant? Well, maybe not in HBO's murder mystery The Undoing (No spoilers, of course).
Seeing the bedroom designs of our favorite characters gives us an inside look at their personal lives and sometimes, even some insight into their less than virtuous affairs.
Here are our nominations for "Best Bedroom Design" in aspire's Best-Dressed Rooms in TV and Film Awards: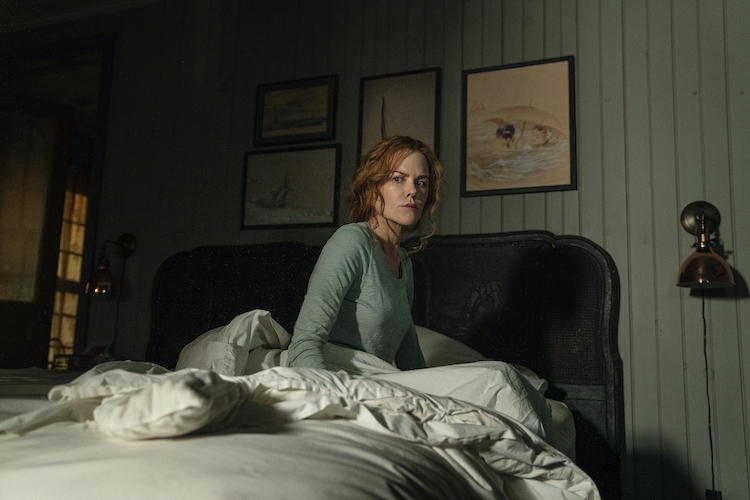 Photo courtesy of David Giesbrecht/HBO.
The Undoing
"In HBOs upper East side whodunnit the wealthy Fraser family's entire townhouse is almost unbelievably lush," notes art critic and judge Alexandra Peers. "But, in particular, the delicate twisting pattern on the golden wallpaper of Nicole Kidman's luxurious bedroom seems to echo the actress' hair and her growing unease as her husband, played by Hugh Grant, starts to look guilty."
In fact, set decorator Keri Lederman matched that wallpaper to Nicole's hair color as part of her many tricks to have the decor fit seamlessly into the narrative.

Photo courtesy of David Giesbrecht/HBO.
"The bed was also custom made," notes judge and set decorator Beth Kushnick, applauding Lederman's work. "It's a big statement about height. A king-size bed often shows the absence of a husband and is larger than life, a place where they had intimacy but now seems more distant."
---

Photo courtesy of Netflix.
Malcolm & Marie
Our judges liked how the bed in this Netflix film took up the whole room, except for small nightstands, revealing the intimacy of an unraveling relationship that was not as neat as it looked. Even the bed linens were always unmade which enhanced the feeling of a real exploration of a couple's journey.
Says judge and interior decorator Gail Davis. "I thought the bedroom was amazing! I love the low headboard that framed the view outside. The sliding glass doors to the outside weren't the typical glass doors but thick & heavy. The whole set design was 'form meets function.'"
---

Photo Courtesy of Netflix.
The Crown
Judges liked the comfort of Queen Elizabeth's bedroom scenes since it wasn't too posh or formal. When she woke up after a maid opened the large velvet curtains, and light streamed in, it helped show her humanness. Furthermore, it showed cultural differences since Queen Elizabeth didn't sleep in the same room as Prince Philip.
As judge and renowned architect Alexander Gorlin pointed out, "the Queen's bedroom was notable for its extreme restraint and completely unexpected shabby quality."
---

Photos courtesy of Netflix.
Bridgerton
"Who doesn't want to be in any bedroom where Rene-Jean Page may be," muses judge and interior decorator Courtney Sloane.
The judges were impressed with the Regency-style De Gournay hand-painted wallpaper in this Netflix series, in a beautiful periwinkle blue. "Textures can be created with beautiful wallpapers," says judge and set decorator Beth Kushnick. "Many sets are using custom-made wallpapers because they can be made wider, and not as noticeable in the scenes. Wallpapers like grasscloths are not so wide. It's the best solution to be less visually disruptive."
A nice detail showed how in the same bedroom that the Duke's mother gave birth to him, the wallpaper was a darker toned blue. But years later when the Duke found marital love with Daphne Bridgerton, the same room was lit brighter which sent the signal this was going to be a happier outcome. This also is a great reminder of how lamps and overhead lights can change the ambiance of any room.
---

Photo courtesy of Big Light Productions.
Medici: Masters of Florence
In this series production designers, starting with Carmelo Agate, Francesco Frigeri and Domenico Sica, were able to find existing castles, museums and churches across Italy to recreate this 15th-century story of Lorenzo the Magnificent. The banker is famous for "modernizing Italy" thanks to his family's love of the arts, architecture and literature. Among the painters the family supported were Michelangelo and Botticelli.
In fact, the team reconstructed more than 2500 square feet of frescoes by early Renaissance masters to put on walls, including in bedrooms.
Set decorators Claudia Cosenza, Roberto Sileo, Patrizia Alfonsi and Biance Pezzati through the seasons created romantic bedrooms with extravagant embellishments, from silver water pitchers and trays to linens and fabrics that were lush and colorful. The carved wood tables and trunks were often inlaid with beautiful designs and the eye was surrounded by art.
The velvet curtains and lush bedspreads on the canopied beds enhanced the mood of luxury and extravagance. Fashion house Fendi furnished mink fur trims, which were used during those times, and Bottega Veneta contributed to this production as well.
---

Photo courtesy of Nick Hall/Hulu.
The Great
Judges, including Derek McLane, loved the opulence of these rooms in Hulu's Russian-inspired series about the young German-born Empress Catherine, whose marriage to Emperor Peter III leads to an eventual coup (as well as lots of bed-hopping).
Since the prevailing style of this period was gold trim and gold leaf on everything from mirrors to settees to beds and tables, as well as trophy heads of animals and foes, the bedroom was one of the few places where decor was just sumptuous.

Photo courtesy of Ollie Upton/Hulu.
Of course, production designer Francesca di Mottol and set decorator Tanya Bowd had to show the transformation of Catherine in the Russian court since she advocated for the arts. Dark paintings and colors in burgundy and black dominate her husband's bedroom which had a Louis XIV style. But in her living quarters, there are soft colors of pale pink, gold and cream, and books everywhere to show how Catherine is cultured and clever. The chinoiserie wallpapers also are luminous and many adored the vines that are prevalent in this decor.

Photo courtesy of Ollie Upton/Hulu.
The blue, green and gold fabric seen in Catherine's bedroom, Bowd found in Paris and transformed into curtains and bedsheets. A challenge included finding trim, tassels and tiebacks for the big curtains as well as suitable candelabras.
But all those details paid off to create memorable boudoirs that our judges appreciated, as did the series' legion of fans.
Vote on your favorite bedroom and results will be announced at the end of the month.