Fabric hangs in the Philomela studios during the multistep process that led to Philomela's spring 2019 line, Indigo Calico.
---
Join Andrew Joseph as he fearlessly dives into the minds of the industry's eminent tastemakers and game-changers. Maker Mondays and Designer Fridays, only from ASPIRE DESIGN AND HOME.
This week, I've had the absolute pleasure of interviewing textile designer, psychoanalyst and bonafide member of the resistance, Bonnie Saland. Saland is the founder of Philomela, a company whose approach and method is reinvigorating and challenging the way we experience craft and design.
Philomela's Bonnie Saland relaxes in the sun with her dog Galaxy at home in Sea Ranch, CA.
---
Andrew Joseph – What's your wakeup ritual?
Bonnie Saland – During the week I set my phone for 6:30 AM and open my eyes to Sam Smith belting out "I'm Not The Only One". I hop to the kitchen, make a pot of coffee, feed my dog Galaxy (Gallie girl), heat and whip my milk, light a candle at the table my mattress faces, and hop back into bed. On a good day, I'll proceed to meditate for twenty minutes; if my mind is too challenged, I'll write down what I appreciate at the moment, and if I am really challenged, I'll read something inspirational. On Sunday mornings, my husband, Mark, heads out at 7 AM, buys cappuccinos and the New York Times, and we spend the morning reading, again in bed.
Andrew – How do you maintain a work/life balance?
Bonnie – For me, life is of one piece, and there is no differentiation between work and the rest of life. I work/create/collaborate in different ways when things need to be done, and when I feel the urge. I try to put as much energy as possible into the people and things that enliven me and spend as little time possible on the rest.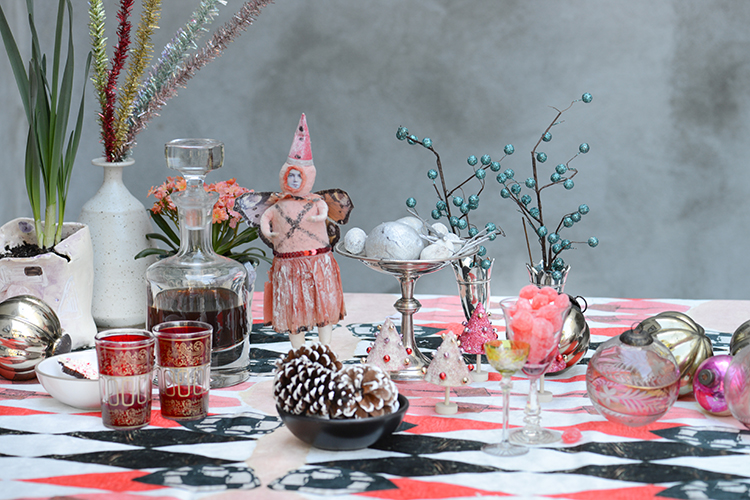 Styled for the holiday season, this tablescape features a patterned tablecloth from Philomela's 2018 collection, Rock Hard.
---
Andrew – What is your favorite time of day?
Bonnie – Cocktail hour!! I'll never tire of meeting up and having a great mixed drink with folks. I love the gamut, from quality mixology to low-brow brews. If it smokes and comes in lava, I'm your gal. Find me the person good with the shaker and I'm gone. Also a fan of the ritual solo, or with whomever at home. Five pm in LA I'm in front of the fire and at Sea Ranch in front of the ocean –almost always these days with a greyhound and my girl Gallie.
Andrew – Best advice you'd give your teenage self?
Bonnie – When in doubt, don't hesitate. The most major mistakes are better than the most minor regrets. I'd also add, not to be contradictory, for G-d's sake do develop a bit of patience with yourself, everyone else, and life's unfolding.
Printed tiled featuring a Philomela pattern provide dramatic visual interest in this wet bar area.
---
Andrew – Favorite place to view art?
Bonnie – For sure, I'm most thrilled to be in intimate space – an artist's studio or home. My preferred installations are in particular worlds, created by the fabulously gifted for their own satisfaction. Judd's Marfa, Bloomsbury's Charleston, Kahlo's Blue House, O'Keefe's Ghost ranch, Purifoy's desert museum (and I could go on and on here) remain my preferred installations.
---
About Bonnie Saland – Bonnie Saland is a trained psychoanalyst and studio artist whose love of image, history, and gender theory led to the foundation of her own textile and wallpaper company. Her approach to making draws on an inherited tradition of women artists creating in response to oppressive patriarchal structures, from her company's namesake, the Greek heroine Philomela, to Kahlo and Beyoncé. Saland's art was featured in the UK based Artists Info Contemporary Arts Fair 2018.
---
About Philomela – Philomela's hand-drawn, painted, and printed textiles and wallpapers borrow from the well of historical reference, while also incorporating a contemporary and digitally manipulated spin, resulting in "a libertine mix of West Coast hedonism." Saland's designs offer invention interpretations on the universal themes of birth, survival, death, and regeneration. With the recent release of her "Rock Hard" and "On Solid Ground" lines, the upcoming Spring 201line, "Indigo Calico," custom pillow service and collaboration with laFortuna, exciting things are coming Philomela's way.
The company's distinct West Coast flair is now available through Daniel Tillman of C3Design in New York City, the most recent in Bonnie Saland's steps to bringing her subversive and sumptuous designs to the global market.
---
About Andrew Joseph – Andrew Joseph's passion for design and rich journalistic history led to the launch of his boutique PR firm in 2012. Prior to enjoying the successes of Andrew Joseph PR, Andrew honed his editorial skills at Vanity Fair and Allure. This experience, as well as the strong network of contacts developed over the years in public relations, brings a valuable edge to his new role as contributing editor. Let the musing begin.
Like what you see? Get it first with a subscription to ASPIRE DESIGN AND HOME magazine.