Two decades of staging homes all over the country, from Miami to the Hamptons, is how Meridith Baer paved her way to becoming the premier home staging agency in the nation. Her firm has naturally grown throughout the years and now offers an array of services including staging, interior design, luxury furniture leasing, and Instant Home services, leaving every space she touches with alluring and comfortable design. Baer has been covered in countless major publications such as Forbes, LA Times and now aspire design and home, as well as being featured on CBS, ABC and Bravo. Introducing this week's Designer Friday, Meridith Baer.
Andrew Joseph: What are 3 things you can't live without?
Meridith Baer: Good food, good friends and my cat.
Andrew: What's one thing people don't know about you?
Meridith: …That I grew up on the grounds of San Quentin Prison, attending a one-room schoolhouse from 1st through 8th grade (my Dad was a warden).
Andrew: What's your design pet peeve?
Meridith: Karate chopped pillows: decorative pillows that are whacked in the middle. They look annoyingly silly and contrived and I always have to puff them back into shape.
Andrew: What's a guilty pleasure you have?
Meridith: Gardening for hours and hours, clip clip clipping away.
Andrew: Are you a good cook? If so, what's your specialty?
Meridith: I love to cook, especially soup, using whatever is in the fridge. Often I'll start with sauteing onions, garlic, carrots, celery, maybe cabbage or tomatoes. Then I add chicken or beef broth, a little apple cider vinegar, spices, and then either a shot or two of vodka for depth, hoisin sauce for personality or a little maple syrup for sweetness and cook it, covered, for 30 to 40 minutes and throw it in the blender to liquify.
Andrew: What makes you angry?
Meridith: Mean-spirited people.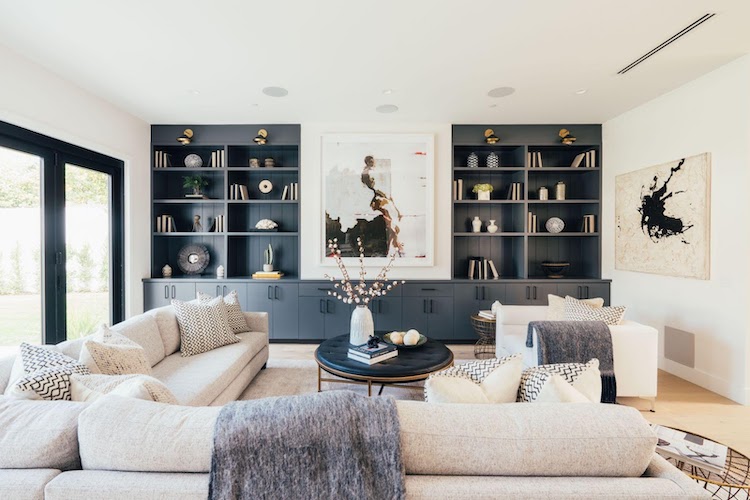 Andrew: Favorite tea to decompress and in what mug?
Meridith: Strong black tea with a little milk in a funky handmade mug with a drawing of a crazed looking "supergirl" that says "I think I'll feel better when I take over the world"
Andrew: What's your best excuse for skipping a Zoom call to watch tv?
Meridith: Saying I have to be on a different Zoom call!
Andrew: Embarrassing quarantine habit?
Meridith: Staying in my pajamas all day and changing into fresh pajamas in the evening.
---
About The Designer | Meridith Baer Home is the premier home staging company in the nation. Celebrating over 20 years making properties more beautiful and more marketable, Meridith and her team treat every space like a unique vignette, telling its story through alluring, artful design. With offices in Los Angeles, San Francisco, New York, Hamptons, and Miami, MBH offers staging, interior design, luxury furniture leasing, and Instant Home services. Meridith Baer Home has been widely featured in media, notably ABC, CBS, NBC, HGTV, and Bravo.
---
Andrew Joseph is a regular contributing editor for aspire design and home magazine. See more of his work here.
Like what you see? Get it first with a subscription to aspire design and home magazine.