From editorial to graphic design, Lisa Hunt has always known that art and creativity are her passion. Her influential pieces are inspired by the Art Deco movement, combining multiple geometric shapes into larger compositions, and exploring the relationship between repetition and pattern. Lisa Hunt's creations have been featured in countless publications and design shows such as Elle Decor, Plant Seven, and Texas Contemporary Art Fair. She is a founding member of the Black Artists + Designers Guild and is a true force in her community. Introducing this week's Maker Monday, Lisa Hunt.

The piece on the left is titled "Abstract Coils Canvas." Lisa Hunt's gold pieces are screen printed patterns where gold leaf is then applied to the surface. Her works take inspiration from indigenous textiles, and share the appreciation of gold leaf that has been used throughout art history.
Andrew Joseph: What are your ideal weekend plans?
Lisa Hunt: Wake up at 7:30 and get some gardening in for an hour or so. Go back to bed until 10, then have brunch with my husband out on our deck. Take a nap until 12, wake up, watch some movies (romance, comedy, action) while lying on the couch. Drinks on the deck at 6 while grilling dinner. In bed by 12.
Andrew: If you could live in any home in a movie or television series, what would it be?
Lisa: In the movie A Bigger Splash (2016) Tilda Swinton plays a rock legend vacationing on the island of Pantelleria, off the coast of Sicily…it's not a great movie but my husband and I often talk about how great it would be to have a house like the one in that movie.

Hanging gently on this wall is "Abstract Various Canvas II." Just like many of Lisa Hunt's work, it features carefully placed 24k gold leaf.
Andrew: What's your favorite cocktail?
Lisa: Dirty Vodka Martini with blue cheese stuffed olives
Andrew: What was your first job?
Lisa: My first job was a paper route in Aurora, Colorado. I was 12 and was supposed to be 13, but lied about my age to get the route. Once a week what seemed like a ton of newspapers were dropped off at our house at 4 am. I had to fold all of the papers and load them up in two bags, which took a couple of hours! Then I had to ride my bike rain or shine up and down big hills delivering the paper. At the end of the month I had to go door to door and ask people if they wanted to pay me for the delivery of what was a free paper. It was grueling, but I was determined.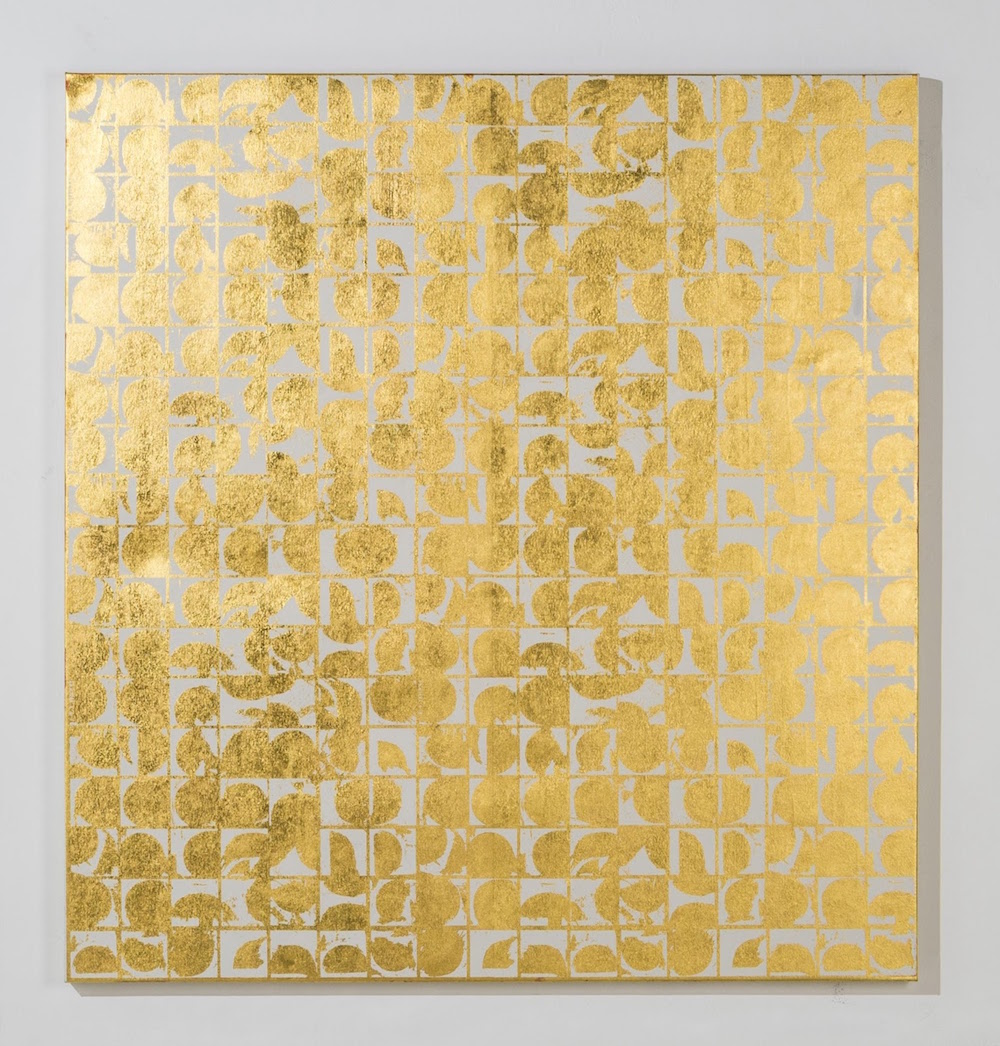 This eye-catching piece is titled "Rounds Negative Canvas," which has been screen printed on bone colored canvas. It's exquisite texture and definition will enlighten any room it is placed in.
Andrew: What would your dream project or dream client be right now?
Lisa: I would love to create a large-scale public artwork in a major US city. It's been a long time dream to translate my work into sculptural objects that sit in nature.
Andrew: Favorite piece of clothing you own?
Lisa: I bought a beautiful Marni jacket from a consignment store in Brooklyn. I love the oversized shape and the woven pattern. Every time I wear it I get a lot of compliments—the best being it reminds people of my artwork. It's perfect for layering in transitional fall weather and it has great roomy pockets.

Placed side by side are the "Rounds Negative and "Rounds Positive" on black canvas. They perfectly complement one another, but are just as powerful on their own.
Andrew: What's your current TV obsession?
Lisa: Insecure on HBO starring Issa Rae. The characters and the dialogue are authentic and represent contemporary black women and their friendships, love and careers. It's funny and dramatic and even though the characters are much younger than me I relate to their growing pains and am rooting for them all to win!
---
About The Maker | After over twenty years of contributing to the publishing world's top brands, most notably as the Creative Director of Essence magazine, Lisa Hunt decided it was time to get back to what makes her happiest: creating art with her own hands. In 2015 she started her second career as a full time visual artist, and since then, her work has been collected and commissioned in the United States, the Middle East and Europe.
Lisa Hunt's screen printed works on paper and canvas explore the spatial and meditative relationships found within repeat patterns. Composed of graphic shapes, symbols, and re-imagined typographic elements, they are expressed with a minimalist approach. Hunt's work employs an aesthetic use of 24k gold leaf to illuminate her patterns and motifs.
Her work has been exhibited at various contemporary venues including Texas Contemporary Art Fair; HIgh Point North Carolina, with a group show at Plant Seven; a solo presentation at Bernhardt Furniture Gallery; in New York City at the Other Art Fair and at the Architectural Digest Design Show. Lisa is represented by Uprise Art and Stella Ripley Contemporary. Internationally commissioned and collected, her work has appeared in Elle Decor, Interior Design magazine and Luxe Interiors + Design magazine. She is a founding member of the Black Artists + Designers Guild.
---
Andrew Joseph is a regular contributing editor for ASPIRE DESIGN AND HOME magazine. See more of his work here.
Like what you see? Get it first with a subscription to ASPIRE DESIGN AND HOME Magazine.