Dorothy Draper famously said, "Of all the rooms in the house your bedroom is yours." From the recently released winter issue of aspire design and home magazine, see how these 17 designers customized the cozy sanctuaries of their client's dreams.
DESIGNER: Dennis Brackeen Design Group PROJECT LOCATION: Houston, TX DESIGN: The palette of dusty-pink walls and charcoal-gray moldings for this gentleman's bedroom feels masculine and chic with the right application. The steel bed and carefully edited furnishings create order and a Zen-like feel. RESOURCES: Walls: Phillip Jeffries' "Love it Linen" color: Tea Rose; Bed: custom-made steel canopy bed; Bedside chest: Tessellated bone and horn inlay from JF Chen, Los Angeles; Lamp: Artemide Tizio; 18th-century Chinese scholar: purchased aux Puces de Saint-Ouen, Paris; Bench: Knoll Barcelona; Art: custom framed botanical; Bedding: Tribute Goods, Houston, TX. Photo: Pär Bengtsson.
DESIGNER: Ashley Whittaker Design PROJECT LOCATION: Greenwich, CT DESIGN: The shapes and patterns in this room pick up on decorative motifs used throughout the house, while still offering slight variety. Lavender and blue is a classic combination that gives this little girl's room sophisticated flair. The addition of navy and the playful mix of prints keeps the room from looking too pretty and perfect. RESOURCES: Linens: D. Porthault. Photo: Thomas Loof.
DESIGNER: Nina Magon Studio PROJECT LOCATION: West Palm Beach, FL DESIGN: Coral Pink and Rosy Tan from Benjamin Moore paired with an accent of mint green in the large-scale, photography by Horst P. Horst, evokes classic Palm Beach. I am influenced by the work of the great Gio Ponti and Italian design. I incorporated classical elements and merged them into a modern and futuristic design with distinguished furniture pieces to create my version of a Palm Beach Interior. RESOURCES: Art: Cathleen Naundorf from Holden Luntz Gallery; Bed: custom-designed by Nina Magon Studio, wrapped in Dekton stone by Cosentino; Upholstered headboard: custom-designed by Nina Magon Studio, upholstered in Fabricut fabric; Rug: custom-designed by Nina Magon Studio, fabricated by New Moon Rugs; Bedding: TFG Italy; Curtains: Fabricut, installed by The Shade Store; Paint: Rosy Tan by Benjamin Moore; Ceiling wallpaper: The Nina Magon Collection for Wall&Deco; Chandelier: The Contour Fixture from the Nina Magon x Studio Lighting Collection. Photo: Carmel Brantley.
DESIGNER: Bartone Interiors PROJECT LOCATION: Hyco Lake, Roxboro, NC DESIGN: In this room, I selected a minimal pattern in a neutral color to coordinate with the simple, modern architecture. The accent pillow has a linear pattern in a larger scale to add interest without complexity to the overall design. RESOURCES: Bed and nightstand: Copeland; Quilt and shams: Crate & Barrel; Accent pillow: Pendleton; Rug: Article; Lamp: Jamie Young. Photo: Lissa Gotwals.
DESIGNER: Alan Tanksley, Inc. PROJECT LOCATION: New York, NY DESIGN: Rich, textured grasscloth with similarly toned, painted moldings envelop the room. The bedding was chosen to enliven the room in contrast to the organic colors and textures throughout. RESOURCES: Wallcovering: Phillip Jeffries; Custom upholstered bed: Alan Tanksley, Inc.; Faux leather for bed: Joseph Noble / Pollack; Nightstand: Aldus, Maria Yee; Vintage table lamp: Alan Tanksley, Inc. Photo: Bartek Sherman.
DESIGNER: The Storer PROJECT LOCATION: Johannesburg, SA DESIGN: The wallpaper was the starting point. The natural light filtering through the windows conjured up feelings of romance. As this room was designed for my daughter, the idea was to keep it soft and light, drawing on the wallpaper for color and impact. RESOURCES: Wallpaper: Cara Saven; Bed: collected piece; Bed throw: vintage Indian Kantha available from The Storer; Rug: Beni Ourain, The Storer; Chair: antique find; Table: family heirloom; Mirror on the table: collected item; Lamp: Studio 19; Wall mirrors, bought in Morocco; Side tables: brass, collected items; Grass potholder: Zara Home. Photo: Elsa Young.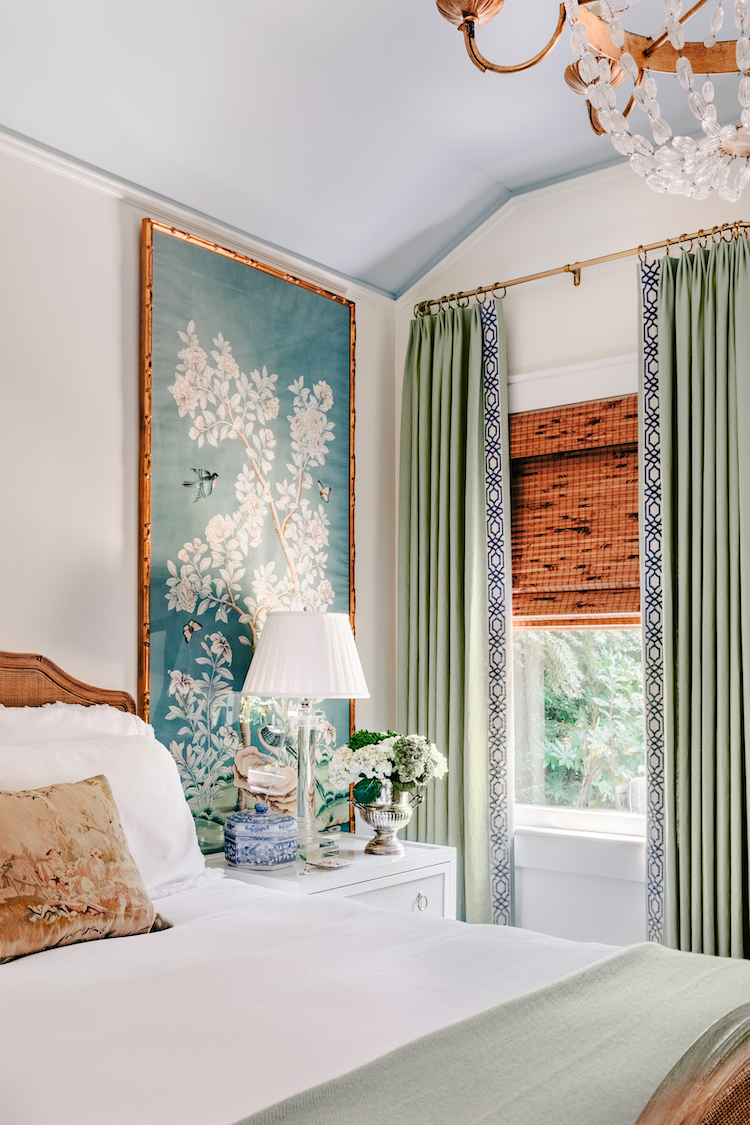 DESIGNER: Caroline Brackett Studio of Design PROJECT LOCATION: Greenville, SC DESIGN: There were some pretty pieces in the existing decor, but we freshened it up with a new layered look. We added a sisal rug under the client's antique rug and added more substantial window treatments. The custom-painted Gracie panels were the inspiration for the other colors we used in the room. RESOURCES: Lamp: Circa Lighting; Hardware: Ballard Designs; Panels: Gracie Studio; Nightstand: Highland House Furniture; Chair: Hickory Chair; Bed, rug and vanity: antique; Chandelier: Visual Comfort; Wall Color: Farrow & Ball, Pointing. Photo: Emily Bolt.
DESIGNER: Etch Design Group PROJECT LOCATION: Austin, TX DESIGN: The design started around the windows. The client wanted a taller headboard, so designer Jessica Nelson used a scalloped, arched headboard to achieve height. This client gravitates towards fun and funky patterns and colors, bold prints and antiques. The wallpaper was an immediate winner, as it provided a wide assortment of colors to work with in the space. The sequined tape trim accented the bold wallpaper, and rich green linen was selected as the backdrop. RESOURCES: Custom bed: Plush; Wallpaper: Schumacher; Bedding: MATOUK; Bed fabric: Kravet; Roman shades (overall fabric): Fabricut; Roman shades (trim): Fabricut. Photo: Avery Martin, Avery Nicole Photo.
DESIGNER: Liz Walton Home PROJECT LOCATION: Haverford, PA DESIGN: The design captures the essence of quiet country living, like a quaint European bed-and-breakfast. To achieve tranquility, we chose a color scheme of lavender, plum, purple and green. The floral, large-patterned wallpaper transforms an ordinary guest room into a destination space. RESOURCES: Thibaut, Anthropologie. Photo: Jason Sandy/AngleEye Photography.
DESIGNER: Shanan Campanaro, ESKAYEL PROJECT LOCATION: East Hampton, NY DESIGN: We built this room around the wallpaper. It gives you the illusion of being outside in a jungle, which makes this tiny room feel much more spacious. We used indigo-blue accents for the bedding and caned furniture to play on the tropical vibe. RESOURCES: ESKAYEL Regalo di Dio Wallpaper and Akimbo Pillow: ESKAYEL; Marte Nightstand and Six-Drawer Dresser: Urban Outfitters; Vintage floor lamp. Photo: Nina Choi.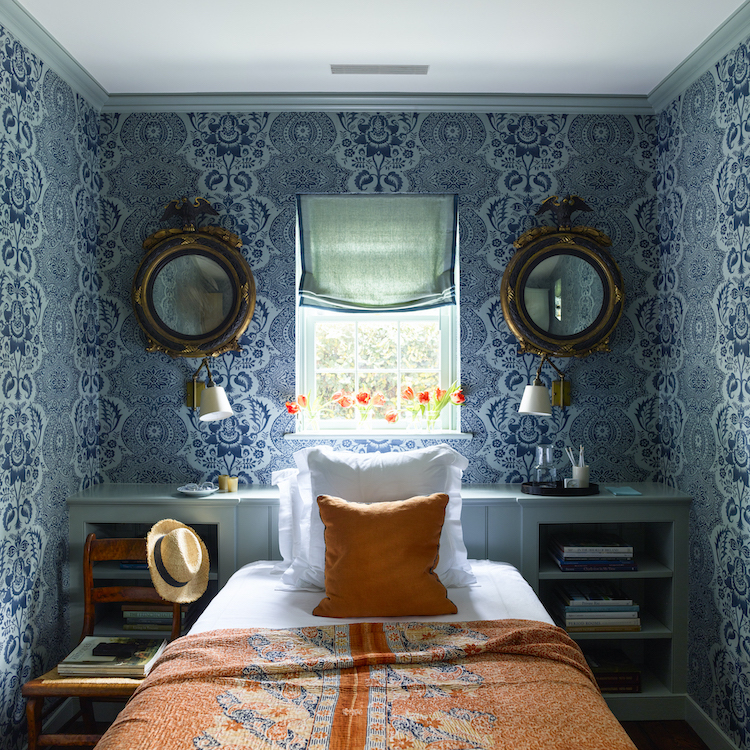 DESIGNER: Gil Schafer, G.P. Schafer Architect PROJECT LOCATION: Charleston, SC DESIGN: This is a cozy guest bedroom in a historic carriage house built in 1843. A theatrical damask wallpaper and the homeowner's twin, heirloom bullseye mirrors transform the tiny space into a jewel box. The bold blue, damask-patterned wallpaper is perfect for a tiny bedroom that could benefit from a little drama. The visual punch of that paper made up for what the room lacked in size and scale. Plus, it made the room incredibly cozy. Built-in storage behind the bed and wall sconces make the space as functional as it is charming. RESOURCES: Antique bullseye mirrors and quilt. Photo: Eric Piasecki.
DESIGNER: KLûK CGDT PROJECT LOCATION: Cape Town, SA DESIGN: We are known for color and texture and print in our clothing, which translates into our properties as well. We see the necessity to push beyond the classic. We chose linen bedding because it sleeps well, and we believe feeling great in an interior is as important as looking great. The mix of wood and stone and color and carpet all add to the layering. RESOURCES: Four-poster bed: SHF Home; Tangent Lamp: WOUD; Bed linens: H&M, Weylandts; Beosound speaker: Bang & Olufsen; Marble plinth: Menu; Gladrags artwork by Claire Johnson, Smith Studio. Photo: Greg Cox.
DESIGNER: Maryline Damour/Damour Drake PROJECT LOCATION: Brooklyn, NY DESIGN: This was a big, open, loft space in a turn-of-the-century factory with few interior walls, so the first thing I did was design a floorplan to incorporate a bright and airy primary suite. The yellow fire door was being thrown out, so I repurposed it as the entrance to the primary closet and bath. I used a soft cream color, along with white bedding and furniture, keeping the space serene and calm. RESOURCES: Lamp base, chaise lounge, reading lamp, bathroom hardware: RH; Lampshade: Custom from Haiti; Mirrored cabinet in bathroom, nightstand with drawers: abc carpet & home; Lighting fixture and curtains in bedroom: Pottery Barn; Table near chaise lounge, bench in closet: Design Within Reach; All artwork from Haiti. Photo: Brian Shumway.
DESIGNER: Katie Leede & Company PROJECT LOCATION: New York, NY DESIGN: The room revolves around the old suzani textile I picked up in Jaipur and repurposed as both the main fabric on the headboard and a leading-edge detail on the curtains. The vibe is meant to be both restful and worldly, even a tad exotic. The burnt orange, terracotta red and charcoal in the headboard informed the shade fabric selection (Katie Leede & Company's Thebes in Currant). I then layered a thin carpet found in Marrakech over a light sisal. The velvet throw pillows are accented by silk fragments from Indian saris. Simply bordered sheets are layered with matching quilts in charcoal and cream. The large, moody painting by Jay Wright invites the eye into a quiet view in another bedroom beyond. A 17th-century bird etching adds interest to the bed wall. RESOURCES: Paint: Farrow & Ball; Curtain fabric: Hemp Traders; Shade fabric: Katie Leede & Company; Quilts: Restoration Hardware; Curtain border trim: Samuel & Sons; Sisal rug: Merida. Photo: Lesley Unruh.
DESIGNER: Ken Foreman PROJECT LOCATION: New York, NY DESIGN: The client wanted an all-white bedroom, so the colors were limited to rugs, furniture and artwork. We used uplighting from indirect sources for softness. The primary goal was to create a peaceful and serene environment. RESOURCES: Bed and nightstand: B&B Italia; Ribbon light: Davide Groppi; Rug: Kasthalle. Photo: Brad Dickson.
DESIGNER: Mikel Irastorza PROJECT LOCATION: Berlin, Germany DESIGN: The first thing that came was the wallpaper…the rest of the items followed. The room is a mix of vintage items. I chose the paper for this patterned but masculine space. I chose a dark pallet of brown and gray colors for the walls and added color with the rest of the items. Photo: Anne-Catherine Scoffoni.
DESIGNER: Cécilia Finet PROJECT LOCATION: Geneva, Switzerland DESIGN: This bedroom is a layered mix of contemporary art and vintage finds from Asia and Europe. A patterned carpet from Uzbekistan and traditional Japanese Andon lamps complement a limited-edition series from David Austen. RESOURCES: Suspension 15A Akari by Isamu Noguchi; Art: Part of the David Austen series; Japanese wooden bed; 50s Hans Wegner nightstands; Vintage Japanese lamps; Blanket: Society Limonta; Carpets: Uzbekistan. Photo: Catherine Gailloud.
Pick up a copy of the 2021 winter issue of aspire design and home magazine to see what else these designers had to say, and be the first to receive each new copy of the magazine with a subscription.