This article was originally published in June, 2020, and updated in May 2021.
---
As we gear up for a summer full of staycations, there's never been a better time to create the outdoor spaces of your dreams. From pools to patios, these eight sanctuaries are sure to inspire.
Designer: Chris Shao Studio
On a sprawling, landscaped rooftop terrace residents of 111 Varick are offered an all-inclusive lifestyle with grilling station, dining table and screening area for movies under the stars. Located in Hudson Square, 30-story luxury residential rental building offers sweeping views of Downtown Manhattan.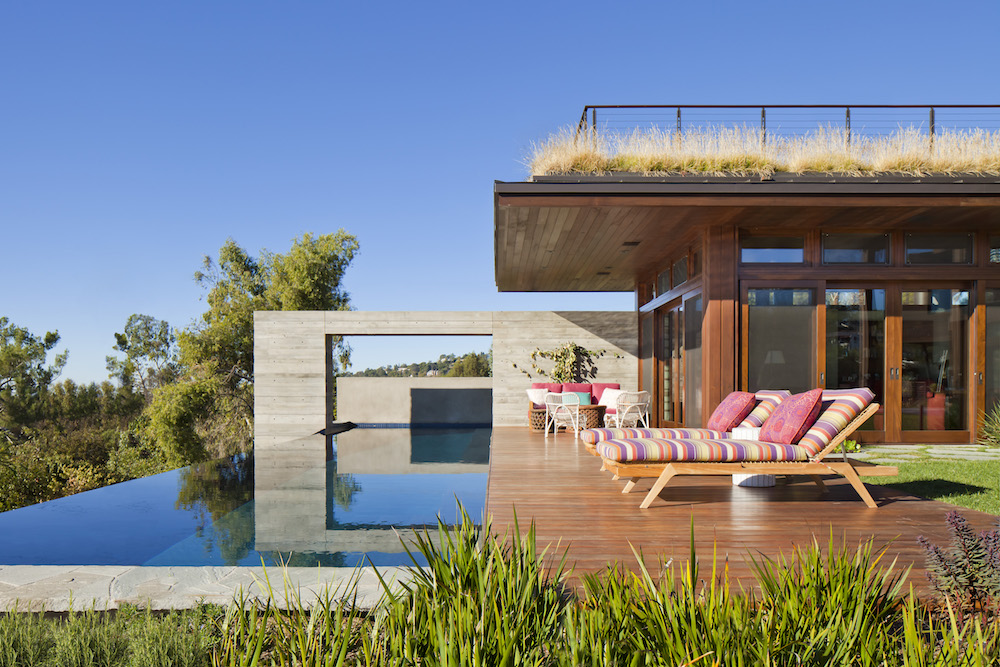 Designer: KAA Design
Perched on the southern flank of the Santa Monica Mountains, KAA Design created an outdoor oasis that blended the garden, pool, and city view.
Photography by Manolo Langis.
Designer: Ike Kligerman Barkley
Set on a peninsula in Rhode Island this origami house is wrapped almost exclusively in Alaskan yellow cedar shingles above and horizontal louvered boards at the ground level. The beautiful outdoor seating area showcases the water views.
Photography by William Waldron.
Designer: Jeffrey Dungan
Located in Alys Beach, this Jeffrey Dungan project offers breathtaking views that will make you feel like you're on a vacation all year long.
Photography by William Abranowicz as seen in The Nature of Home: Creating Timeless Houses.
Designer: KAA Design
Designed for a professional athlete and his young family, the Balboa Avenue Residence, by KAA Design, embodies the essence of the casual Southern California lifestyle. A covered outdoor living room with a fireplace and TV, create the perfect outdoor entertainment space.
Photography by Roger Davies.
Designer: Tom Stringer
This Santa Barbara Estate, by Tom Stringer Design Partners, offers a beautiful backyard escape.
Photography by Jorge Gera.
Designer: Alison Pickart
Interior Designer, Alison Pickart loves entertaining year-round. This outdoor space creates the perfect atmosphere for summer nights.
Photography by Aaron Leitz.
Designer: Jeffrey Dungan
Jeffrey Dungan created this Alabama home for a world-traveling couple. Inspired by English, French and Gotic styles, the couple wanted an elegant spa-like atmosphere.
Photography by Emily Followill as seen in The Nature of Home: Creating Timeless Houses.
Like what you see? Get it first with a subscription to ASPIRE DESIGN AND HOME Magazine.